COMUNICADOS
Observatory on Racism in Mexico and Central America calls on States to generate inclusive migration agreements at the Ministerial Conference on Migration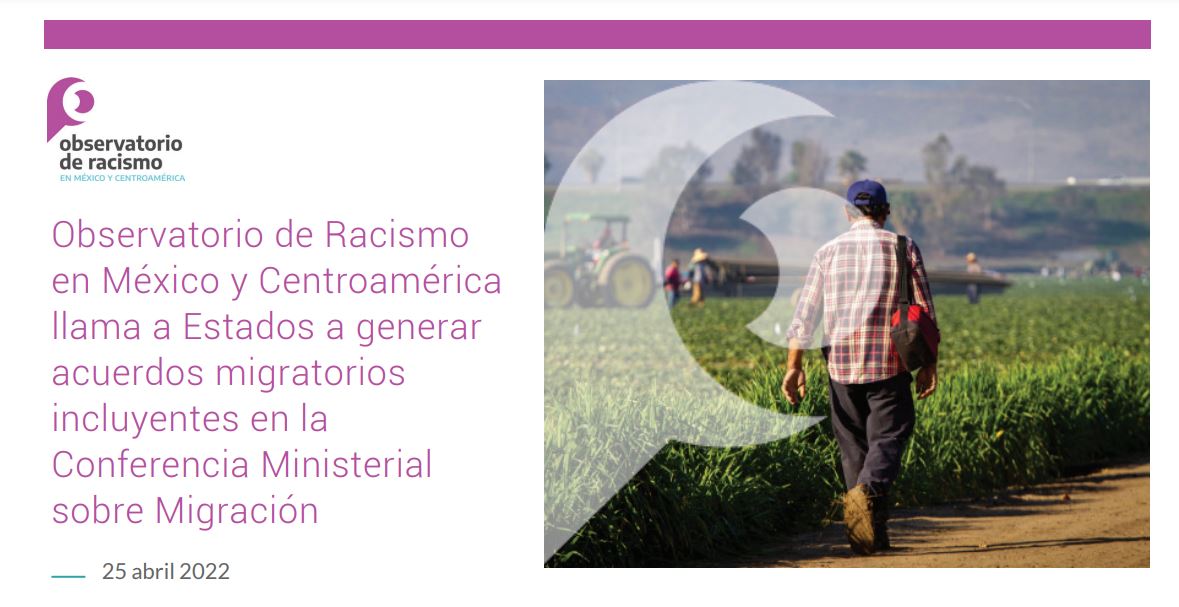 Due to the Ministerial Conference on Migration and Protection, held on April 19 and 20 in Panama, in which more than 20 States of the American region participated, and in consideration of the future Summit of the Americas, to be held from June 6 to 10, 2022 in Los Angeles, the Observatory on Racism in Mexico and Central America and the Network of Allied Organizations call on governments to ensure compliance with international human rights standards regarding the protection and inclusion of people in situations of mobility in regional discussions, and to prioritize an approach of equality that promotes measures to prevent any form of structural and institutional racism.
Historically, the state response to migratory flows in the region has been characterized by various tendencies of structural and intersectional racism that manifest themselves in multiple forms of normalized and institutionalized violence. Images of police siege and illegitimate use of force against racialized migrants are common throughout the region. Therefore, in the face of a possible new regional cooperation agreement related to human mobility, it is imperative to take an anti-racist approach that considers the racial and cultural diversity of the current migratory phenomenon.
We invite States to honor their obligations under the International Convention on the Elimination of All Forms of Racial Discrimination, in particular:
Not to engage in any act or practice of racial discrimination against persons, groups of persons;
Ensure that all public authorities and public institutions, national and local, act in accordance with the Convention;
Not to promote, defend or support through migration and asylum policies racial discrimination;
Review government policies and amend, repeal or nullify laws and regulations that have the effect of creating racial discrimination or perpetuate it where it already exists.
In addition, we make a call to include anti-racist and anti-xenophobic promotion policies in your countries for the proper integration of migrants, asylum seekers, and refugees.
Sincerely yours,
Pop No'j Association
Nicaraguan Links Association
Actallience
Education against racism, A.C. "RacismoMX".
Espacio Migrante
Independent Monitoring Group of El Salvador
Center for Justice and International Law (CEJIL)
Mennonite Social Action Commission
Migration Affairs Program of the Iberoamerican University (PRAMI)
Trans Queer Pueblo
A Helping Hand in the Fight against AIDS, A.C.
Institute for Women in Migration, A.C.
Center for Integration and Recovery El Jardin de las Mariposas, A.C.